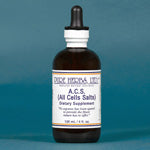 PRODUCT DESCRIPTION: Reformulated:
All Cells Salts (liquid & capsules 150 ct - 400mg) (Bladderwrack, Cassava, Irish Moss, Kelp) Provides electrolytes and minerals for the maintenance of good health.*
*This product has not been evaluated by the Food and Drug Administration.
This product is not intended to diagnose, treat, cure or prevent any disease.