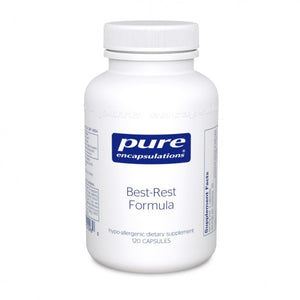 Certified Gluten-Free by the Gluten-Free Certification Organization, www.gluten.org‡
Promotes the onset of sleep as well as sleep quality‡
Supports natural relaxation of the nervous system‡
Made with flower extracts and other natural ingredients
Made with hypoallergenic, vegan ingredients
Best-Rest Formula supports healthy sleep cycles by encouraging an easy transition to sleep and a restful night's sleep. The supplement contains passionflower, chamomile, lemon balm and hops, which have been clinically shown to naturally calm and relax the central nervous system.‡
Promotes the onset of sleep as well as sleep quality; featuring deodorized valerian root extract‡
This blend provides support for occasional sleeplessness. It contains the time-tested support of valerian, passion flower, chamomile, lemon balm and hops, which act to calm and relax the central nervous system. Double-blind trials involving valerian, valerian/lemon balm combinations and valerian/hops combinations have indicated the potential to support the onset of sleep as well as healthy sleep quality. Melatonin also facilitates the onset of sleep and sleep efficiency. GABA and l-theanine are included for their ability to promote alpha wave production in the brain, an indication of relaxation.‡
‡
These statements have not been evaluated by the Food & Drug Administration. These products are not intended to diagnose, treat, cure or prevent any disease.
Best-Rest Formula
Supplemental Facts
two vegetarian capsules contain:

(standardized to contain 0.8% valerenic acids)

(standardized to contain 5% rosmarinic acid)

(standardized to contain 3.5% vitexins)

other ingredients: vegetarian capsule (cellulose, water), hypoallergenic plant fiber (cellulose), gum arabic, maltodextrin, ascorbyl palmitate, silica
Suntheanine® is a registered trademark of Taiyo International, Inc.
Consult a healthcare professional if you are experiencing long-term sleep difficulties, before use in children, before use in pregnant or lactating women, those with a medical condition, and those taking medication. Do not drive or operate machinery when taking melatonin. This product may be contraindicated for individuals taking corticosteroids.
2 capsules, 30-60 minutes before bedtime.