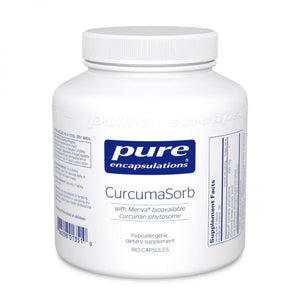 With Meriva® bioavailable curcumin phytosome; enhanced absorption for joint, tissue and cellular health‡
Supports skeletal, digestive and cardiovascular health‡
Clinically studied for enhanced absorption‡
Made with vegan ingredients
CurcumaSorb is the easily absorbed form of curcumin to help provide maximum support for musculoskeletal, digestive, liver, brain, cellular and cardiovascular health.‡
CurcumaSorb provides the patented Meriva® curcumin-phosphatidylcholine complex for enhanced-absorption and bioavailability. The proprietary phytosome technology combines curcumin and phosphatidylcholine at a 1:2 ratio, promoting resistance to degradation in the digestive tract and efficient absorption across membranes. This produces significantly higher peak plasma concentrations and larger area under concentration-time curves (AUC). In a single-dose pharmacokinetic animal study, plasma curcumin levels were 20-fold greater with Meriva® than standard curcumin. A preliminary human pharmacokinetic study demonstrated that elevations in plasma curcumin from 450 mg Meriva® were similar to values obtained from 4,000 mg of a standard curcumin extract. The efficacy of a low dose was demonstrated in a three-month clinical trial, in which 200 mg curcuminoids from Meriva® per day provided significant benefit in joint comfort, mobility and quality of life.‡
‡These statements have not been evaluated by the Food & Drug Administration. These products are not intended to diagnose, treat, cure or prevent any disease.
CurcumaSorb
Supplement Facts
two (size 00) vegetarian capsules contain:
(Curcuma longa extract (root) and sunflower phospholipid complex)

(standardized to contain 18% curcuminoids)

other ingredients: hypoallergenic plant fiber (cellulose), vegetarian capsule (cellulose, water)
Meriva® is a trademark of Indena S.p.A.
Phytosome More Bioavailable® is a trademark of Indena S.p.A.
2 capsules, 1-3 times daily, between meals.