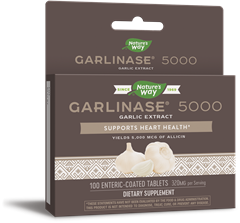 Heart healthy garlic without the garlic breath!*
Reap the rewards of garlic...
Delivers 5,000 mcg of allicin, fresh garlic's most beneficial compound.
Enteric-coated tablets reach the small intestine, so you get garlic where you need it, and avoid garlic breath.
Supports heart health.*
Maintains healthy cholesterol levels that are already within the normal range*
Contains 320 mg garlic, with just 1 tablet daily!
And keep your fresh breath, too! Why non-aged garlic is best…
Allicin is the key compound found in non-aged garlic and supports cardiovascular health.*
In fact, Aged Garlic:
Yields NO beneficial allicin.
Dissolves in the stomach, destroying any chance of allicin reaching the bloodstream.
Is artificially aged in an accelerated process, destroying garlic's most beneficial
compound.

Directions:

Take 1 tablet daily with food. DO NOT CHEW OR CRUSH.

Serving Size: 1 Ent Coat Tab
Amount/Serving
%DV
Garlic (Allium sativum) Bulb Extract standardized to 3.4% alliin (10.88 mg)
320mg
**

---

This product does not contain

 

artificial flavoring
corn
dairy products
gluten
ingredients of animal origin
preservatives
salt
soy
sugar
wheat
yeast

 

 

Warning

Do not use this product if you have a bleeding disorder, are taking blood-thinning medication, or are within a week of any surgical procedure. If pregnant, nursing, or taking any medications, consult a healthcare professional before use.

 

 

Notes

Keep out of reach of children.

Vegan, Quality Global Sourcing

 

 

Other Ingredients

cellulose, sodium croscarmellose, hypromellose, titanium dioxide color, ethylcellulose, calcium stearate, silicon dioxide, glycerin, sodium alginate, medium chain triglycerides, oleic acid, stearic acid

† This statement has not been evaluated by the Food and Drug Administration. This product is not intended to diagnose, treat, cure, or prevent any disease.
*These indications are based soley on traditional homeopathic use. They have not been evaluated by the Food & Drug Administration