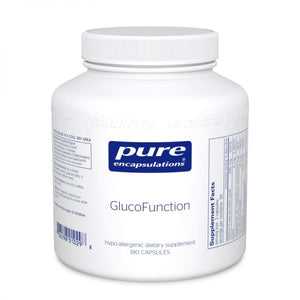 Promotes healthy glucose metabolism‡
May support healthy lipid metabolism and blood flow‡
Made with vitamin C for antioxidant support‡
Made with hypoallergenic, vegan ingredients
GlucoFunction is a blend of key nutrients, antioxidants and herbal extracts in one dietary supplement to provide comprehensive support for healthy glucose metabolism.‡
Minerals including chromium, magnesium and zinc are associated with healthy glucose metabolism and may be synergistic with biotin. Bis-glycinato oxo vanadium is a bioavailable organic complex of glycine and vanadium. Vanadium promotes healthy glucose metabolism by supporting healthy liver and skeletal muscle function. The water-soluble polyphenol polymers found in CinSulin® cinnamon extract promote healthy glucose function, lipid metabolism and blood flow. Momordica charantia, or bitter melon, and Gymnema sylvestre provide traditional support for healthy pancreas and glucose function. Vitamin C maintains healthy red blood cell sorbitol levels. Alpha lipoic acid supports healthy glucose metabolism by promoting healthy mitochondrial function.‡
‡These statements have not been evaluated by the Food & Drug Administration. These products are not intended to diagnose, treat, cure or prevent any disease.
GlucoFunction‡
Supplement Facts
each (size 00) vegetarian capsule contains:

vitamin C (as ascorbic acid)

66 mg

biotin

2,000 mcg

magnesium (as magnesium citrate)

50 mg

zinc (as zinc citrate)

5 mg

chromium (as chromium polynicotinate)

133 mcg

vanadium (as bis-glycinato oxo vanadium (BGOV))

500 mcg

alpha lipoic acid (thioctic acid)

100 mg

cinnamon (Cinnamomum cassia) extract (dried bark)

83 mg

gymnema (Gymnema sylvestre) extract (leaf)

50 mg

bitter melon (Momordica charantia) extract (fruit)

75 mg

other ingredients: vegetarian capsule (cellulose, water)
ChromeMate®

 

brand niacin-bound chromium. ChromeMate®

 

& logo are trademarks of Lonza or its affiliates.
CinSulin®

 

is a registered trademark of Beijing Tang-An Nutrition & Healthcare Products Co., Ltd.
Not to be taken by pregnant or lactating women.
1 capsule, 3 times daily, before meals.