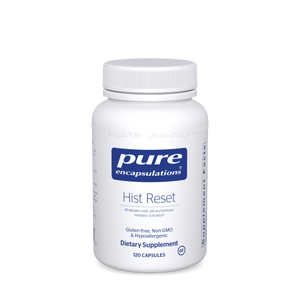 Multi-faceted support for nasal and respiratory health‡
Promotes healthy mast cell stabilization‡
Supports healthy histamine metabolism‡
Includes flavonoids quercetin, luteolin, and rutin for antioxidant and immune support‡
For individuals that experience symptoms of histamine intolerance, such as congestion, general fatigue or discomfort, occasional GI upset, skin sensitivity or flushing‡
Made with vegan ingredients
 

Gluten Free
 

GMO Free
 

Vegan
 

Vegetarian
Hist Reset
Supplemental Facts
two vegetarian capsules contain:

Vitamin C (as ascorbic acid)

250 mg

Riboflavin

5 mg

Niacin (as niacinamide)

20 mg

Molybdenum (as molybdenum glycinate)

100 mcg

N-Acetyl-L-Cysteine

100 mg

Quercetin

300 mg

Bromelain (from pineapple stem) (2,400 GDU/gram)

200 mg

Luteolin

100 mg

Rutin

100 mg

other vegetarian capsule (cellulose, water)
2 capsules daily, between meals, or as directed by a health professional.
‡

These statements have not been evaluated by the Food & Drug Administration. These products are not intended to diagnose, treat, cure or prevent any disease.