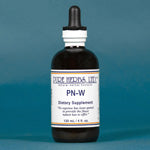 PRODUCT DESCRIPTION: (Blessed Thistle, Crampbark, False Unicorn, Ginger, Partridge Berry, Red Raspberry Leaf) This combination of herbs may help to relieve nausea and vomiting associated with pregnancy.*
*This product has not been evaluated by the Food and Drug Administration.
This product is not intended to diagnose, treat, cure or prevent any disease.