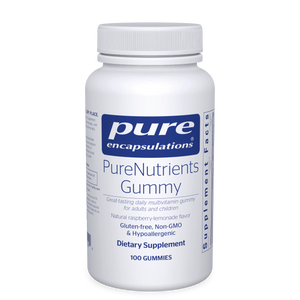 Comprehensive multivitamin/mineral complex enhanced with organic berries and fruits in a convenient, great-tasting, fruit-flavored gummy for children and adults
Chewable berry-shaped, great-tasting gummy multivitamin for children and adults
Enhanced with organic berries and fruits in a great-tasting fruit-flavor
Natural and lightly sweet raspberry-lemonade flavor
Made with Vegetarian, and gelatin-free ingredients with no artificial flavors or colors
PureNutrients Gummy is a comprehensive multivitamin/mineral complex enhanced with organic berries and fruits in a convenient, great-tasting, fruit-flavored gummy. PureNutrients Gummy contain only 1 gram of sugar per 2 gummies, 5% less than other leading brands.**
**As of 8/20/2019 Pure Encapsulations PureNutrients Gummy provided 2 g of sugar per serving which is up to 75% less sugar than other leading professional brands providing 6-8 g per serving
PureNutrients Gummy
Supplement Facts
Four gummies contain:

Calories

30

Total carbohydrate

7 g

Total sugars

2 g

Includes 2 g of added sugar (4 gummy dose)

Vitamin A (as vitamin A palmitate and 60% beta carotene)

750 mcg

Vitamin C (as ascorbic acid)

80 mg

Vitamin D (as cholecalciferol) (D3)

25 mcg (1,000 IU)

Vitamin E (as d-alpha tocopherol acetate)

10 mg

Vitamin K (as Vitamin K1)

120 mcg

Thiamin (as thiamin mononitrate)

1.5 mg

Riboflavin

1.7 mg

Niacin (as niacinamide)

11 mg

Vitamin B6

 

(as pyridoxine HCI)

5 mg

Folate (as Metafolin®, L-5-MTHF)

400 mcg DFE (240 mcg L-5-MTHF)

Vitamin B12

 

(as methylcobalamin)

100 mcg

Biotin

100 mcg

Pantothenic acid (as calcium pantothenate) (B5)

5 mg

Choline (as choline bitartrate)

30 mg

Iodine (as potassium iodide)

112 mcg

Zinc (as zinc citrate)

9 mg

Chromium (as chromium picolinate)

50 mcg

Sodium (naturally occurring)

24 mg

Berry/Fruit blend (organic)

100 mg

strawberry fruit, raspberry fruit, blueberry fruit, tart cherry fruit, pomegranate fruit, cranberry fruit, orange fruit, lemon fruit

Other ingredients: isomalto-oligosaccharides, purified water, apple puree, cane sugar, pectin, natural raspberry and lemon flavors, citric acid, sodium citrate, natural black carrot color, organic stevia leaf extract, organic sunflower oil, carnauba wax, medium chain triglycerides, hydroxypropyl cellulose, glycerin
Metafolin®

 

is a registered trademark of Merck KGaA, Darmstadt, Germany.
Ages 2 to 3, take 2 gummies daily, with a meal. Ages 4 and up, take 4 gummies daily, with meals.
‡These statements have not been evaluated by the Food & Drug Administration. These products are not intended to diagnose, treat, cure or prevent any disease.