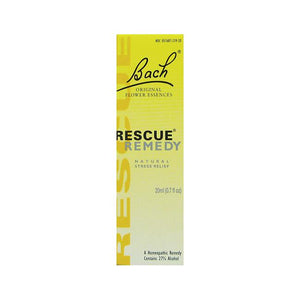 Bach Flower Remedies Rescue Remedy Natural Stress Relief Description
For Relief of occasional stress.
Dr. Bach's most famous Flower Essence formula, Rescue Remedy®, is one of the world's best known natural stress relief remedies. Made from five of the Doctor's original 38 Flower Essences: Cherry Plum, Clematis, Impatiens, Rock Rose and Star of Bethlehem.

Rescue Remedy® is an all natural form of healing that can reduce everyday stress and help maintain control of your health. Effective in virtually any situation that causes stress or anxiety. Helps restore a sense of calm and control.

Gentle, safe, effective treatment for the whole family.
---
Directions
Take 4 drops in a small glass of water. Repeat as necessary. Can also be taken by placing 4 drops directly on or under the tongue.
Free Of
Artificial additives.