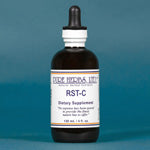 PRODUCT DESCRIPTION: Reformulated: (All Cells Salts [Arrowroot, Bladderwrack, Irish Moss, Kelp], Calendula, Chickweed, Fo-Ti (He Shou Wu), White Mustard (Yellow Mustard))
Helps to relieve occasional stiffness and joint discomfort after periods of physical exertion.*
*This product has not been evaluated by the Food and Drug Administration.
This product is not intended to diagnose, treat, cure or prevent any disease.