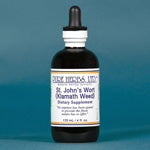 PRODUCT DESCRIPTION: Helps to relieve occasional restlessness and supports a healthy nervous system.*

NOTICE: Do not use product containing St. John's Wort while taking any prescription drug(s) without the advice of your prescribing physician. Avoid excessive exposure to UV irradiation (e.g., sunlight; tanning) when using this product. Not intended for use by pregnant or nursing women. If you have any medical condition or are taking any medication, consult your doctor prior to use. Discontinue use and consult with your doctor if any adverse reaction occur.
*This product has not been evaluated by the Food and Drug Administration.
This product is not intended to diagnose, treat, cure or prevent any disease.