Always keep the power of Thieves oil blend with you—even on the go! Young Living's Thieves Hard Lozenges, made with Thieves essential oil blend, offer a convenient and portable way to enjoy this favorite dietary supplement.
Unlike many other lozenges, Thieves Hard Lozenges use pure essential oils and natural ingredients instead of sugar or artificial flavoring for a great, refreshing taste. These lozenges get an extra flavor boost from Peppermint and Lemon essential oils. You'll get great taste and effective support without dyes, artificial flavors, or preservatives.*
Dissolve one lozenge in mouth, as needed. Swallowing lozenges whole may cause choking.
Keep out of reach of children and do not expose to excessive heat or direct sunlight.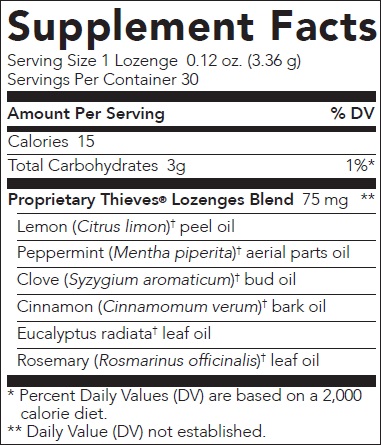 Other Ingredients: Isomalt, Water, Stevia (Stevia rebaudiana) leaf extract, Pectin
†100% pure, therapeutic-grade essential oil
Contains coconut/palm ingredients