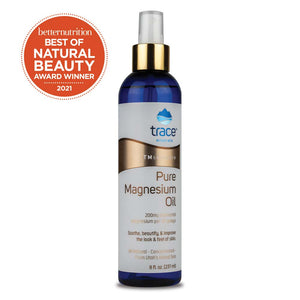 Magnesium is one of the most important minerals for human health. It's the fourth most abundant mineral in the body and participates in over 300 biochemical reactions! Magnesium is also great for the skin! Pure Magnesium Oil provides magnesium chloride, one of the best forms of topical magnesium because it is purity, potency, and rapid absorption rate into skin.
INGREDIENTS
Concentrated Magnesium Chloride from seawater.
DOES NOT CONTAIN
Parabens, Dyes, Fragrance, or Synthetics.
• Doctor Recommended
• Not Tested On Animals
• 100% Natural Concentrate From Utah's Inland Sea
• All Natural
• Odorless, Non-Greasy, Stain Free Formula
• Soothe, beautify, & improve the look & feel of skin
• 200mg of Magnesium per 10 sprays
In studies involving the uses and benefits of transdermal magnesium, magnesium has been shown to break apart different fats and oils, which help aid in reducing skin oiliness. It can also help to reduce stress-related skin irregularities and blemishes to enhance the look, feel and glow of skin.